How Matic Simplifies Insurance Quoting with Custom-Built APIs and Basis Theory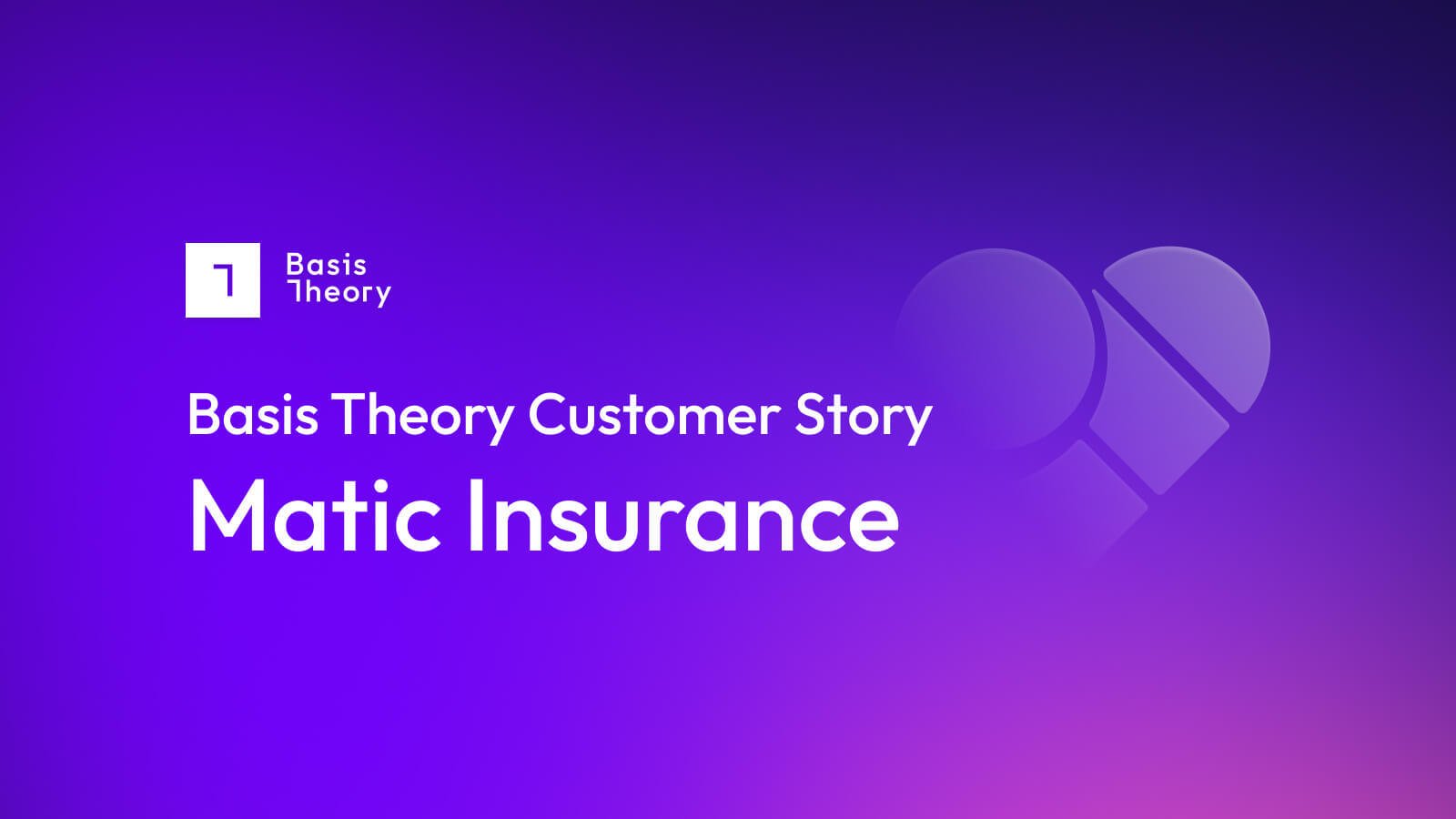 Matic Insurance Case Study Overview
Matic Insurance wanted to offer policy-binding payment via credit card

The team outsourced the PCI compliance burden to Basis Theory

Matic integrated with Basis Theory in about a week
Matic Insurance is a technology-driven insurance marketplace that connects consumers with multiple carriers to provide them with personalized home and auto insurance options. With a mission to simplify insurance quoting for both consumers and agents, Matic built custom APIs directly to their carrier partners, to help create a seamless, positive experience on the website.
Sarah Berg, VP of Marketing at Matic, said, "Matic makes the process of identifying a potential policy that will save the consumer money much easier and faster than going either direct to a carrier or through a different marketplace." Thanks to the team's efforts in creating a simplified platform, customers can easily get nearly instant quotes on the website from 45 A-rated insurance carriers.
Choosing the Right Provider to Reduce Compliance Burden
To streamline the purchasing experience for customers, Matic developed the ability to bind directly online without needing to speak to an agent. "The majority of Matic customers choose to escrow their insurance payments as part of their mortgage," said Lee Maliniak, VP of Product Management at Matic. "However, for those who do not escrow, we needed the ability to take payment via credit card. This requires PCI compliance which can be time consuming and costly."
The Matic team was aware of the effort involved in achieving and maintaining compliance with regulatory bodies, which is why they decided to outsource PCI compliance to a third-party provider. They needed a tokenization data vault that could reduce their PCI compliance burden while maintaining flexibility in the platform.
Their search for a third-party provider that could meet their requirements led them to Basis Theory, which became the clear winner. According to Vlad Mykhailyk, VP of Engineering at Matic, their selection criteria included open documentation, transparent pricing, and getting started quickly without any sales involvement.
"I created the account, and our engineering team simply started integrating," Vlad said. From there, it took only about a week to integrate Basis Theory into their systems.
Lightning-Fast Implementation
Matic's custom APIs allow the platform to begin the binding process by sending data over to the carrier to customize the policy, then get a final price and offer an appropriate package to the customer. During the final API call, when payment is exchanged, Basis Theory's platform comes into play.
"On the last step, we're using Basis Theory on a checkout (bind) page. The customer has an option to enter all of the payment information, and then the data goes to the Basis Theory [vault]. Then, one final API call is proxied through Basis Theory's database to the carrier portal," Vlad said. This enables Matic to significantly reduce its PCI compliance burden as the company has no contact with the underlying cardholder or bank data that Basis Theory proxies directly to carriers.
Outsourcing this effort allowed Matic to focus on delivering a superior user experience to its customers, while Basis Theory took care of the PCI side of the transaction.
The Next Steps for Matic After Integrating Basis Theory
Now that the integration is live and the Matic team is happy with the platform, they have some exciting items on the horizon.
"As we enhance policyholder features, customers will be able to manage different policies in a usable interface on our site. Customers will be able to change the credit card on our platform," Vlad said.
When this feature comes to fruition, Matic will continue to store the cardholder and bank data in the Basis Theory vault, for Basis Theory to pass directly to the carriers, still keeping Matic out of the PCI side of the transaction.
Overall, Matic's decision to outsource PCI compliance to Basis Theory has enabled them to focus on their core competencies and deliver a seamless insurance experience to their customers.