How to store credit cards: Buy vs. Build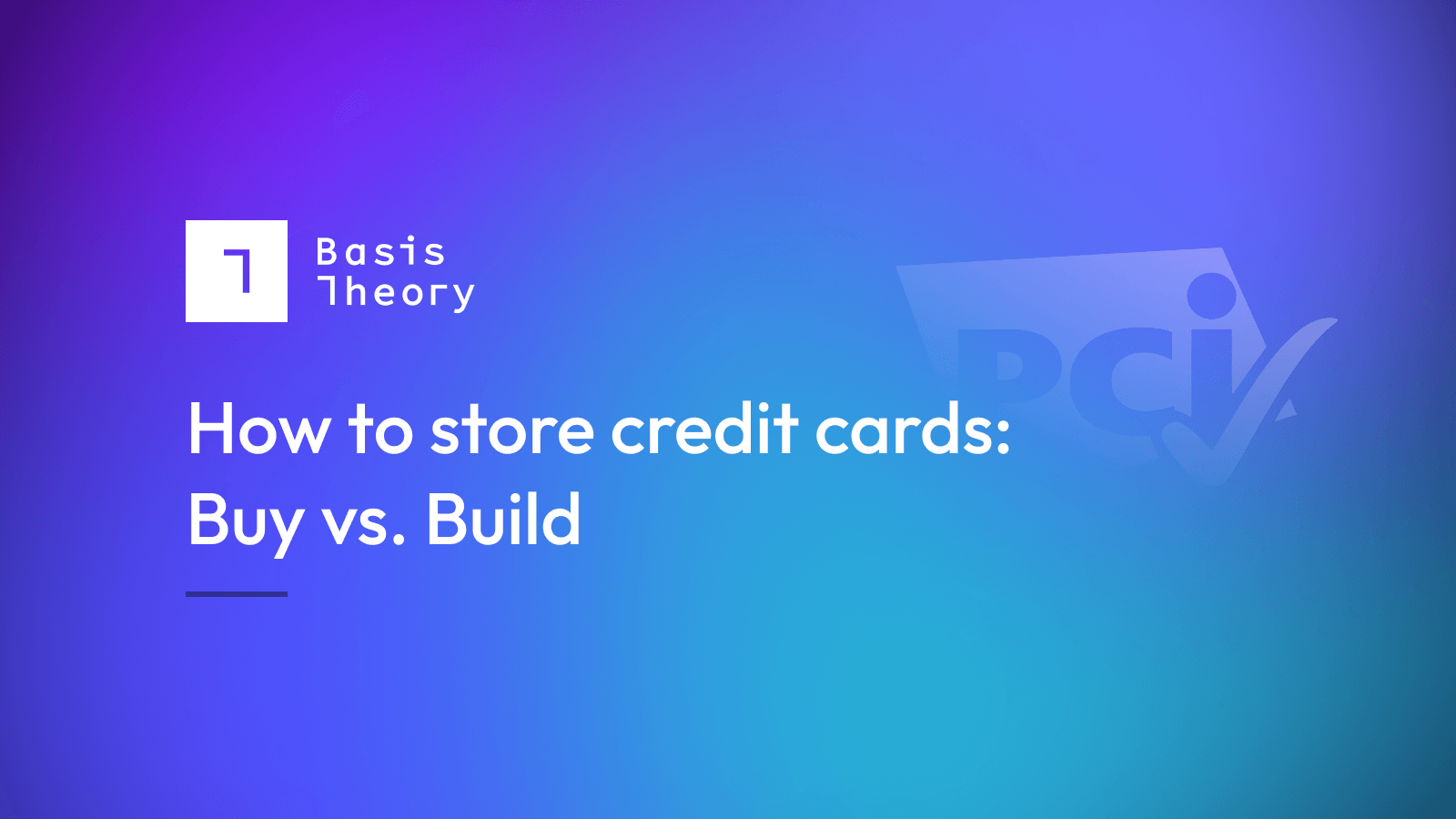 Learn the core concepts, efforts, and trade-offs between building vs. buying a cardholder data environment (CDE).
Whether you're looking to simply accept or issue credit cards in-app or do something more complex, like split payments and multi-processor routing, understanding the level of effort to store your cardholder data (CHD) is a critical step to picking which path—build or buy—is right for you. In this blog series, we'll provide a side-by-side comparison of both.
This post provides a high-level overview of the two solutions, but you can find more detail on the two solutions in the follow-up pieces:
Build or Buy a Solution: Key Concepts
In previous posts, we defined a cardholder data environment (CDE) and its purpose. We then went in-depth on the two primary options for collecting and securing these credit and debit card details: building and maintaining a PCI CDE and program vs. using third-party CDE Service Providers. In this blog, we'll tie it all together to offer a top-line view of each, as well as some tips to guide internal discussions at your organization.
Before we jump in, it's probably helpful to revisit some key terms used in this document.
Build or Buy: PCI Compliance Considerations
The following comparison is meant to aid internal discussions with your team. As always, PCI is very nuanced and specific to your implementation, so be sure to reach out to us in our Slack Community or another trusted expert if you have any questions.
SERVICE PROVIDERS

BUILD YOUR OWN

FINAL THOUGHT

Card or Payment Service Provider
Tokenization Service Provider

Compliance scope and system impact

Offloads up to 93% of compliance requirements; may use SAQ A or SAQ A-EP to audit

Same as card issuer or payment service provider

Assumes 100% burden of implementing, maintaining, and proving compliance; Must assess using an SAQ D or ROC (over 300 questions)

Service Providers

offer tools, services, and infrastructure so that most organizations may use the smallest Self-Assessment Questionnaire (SAQ A, 22 questions).
Data portability and usability

Token works only with card issuer or payment service provider; Cannot share cardholder data with third parties

Send data to third parties; Search, transform, and control access to cardholder data; Minimize threat of vendor lock-in; Unlock or maintain existing downstream processes; Useful with other data types

Complete control over cardholder environment and data; Risk of decentralizing data

Building your own gives you complete control over your cardholder data, but Tokenization Service Providers can provide similar capabilities with less complexity, cost, and overhead.
Time-to-go live

Deploys compliant solutions in hours; SAQ A assessment takes hours

Same as card issuer or payment service provider

4-9 months to implement and assess

Service Providers offer existing PCI-compliant infrastructure and out-of-the-box tools that accelerate development.
Cost

Costs are lumped into usage-based transaction fees; Volume-based discounts are available

Costs range from per interaction to monthly active tokens; Does not include processing fees

Costs to implement, assess, and maintain range CDE and PCI program range from $145,000-$500,000; Does not include processing fees

Card issuers and service providers are cost-effective for straightforward SMB card acceptance; use Tokenization Service Providers if you expect to switch vendors, optimize payments, or send data to third parties.
Compliance and security management

Maintains continuous security and compliance infrastructure on behalf of customers

Same as card issuer or payment service provider

Requires prioritization of security and compliance updates

Service Providers manage infrastructure, allowing teams to focus roadmaps on differentiating their core products or services.
Developer experience

Offers clean developer docs, modern SDKs, and guides; Built-in guardrails for building compliant payment workflows

Same as card issuer or payment service provider; Provide guardrails for other types of sensitive data (e.g., PII and PHI)

Must create docs, guides, and SDKs to support developer adoption and use

Service Providers provide modern developer patterns, tools, and services that streamline development, eliminate compliance bottlenecks, and promote adherence.
Tips for choosing which PCI compliance approach is best for you?
To help put these perspectives to work, here are a few lightweight exercises we've seen help customers evaluate which option is right for them.
What to read next?
Continue reading the series to learn more.
Are you interested in learning more about storing credit card information? We'd love to hear from you! Take a look at our developer docs or talk to one of our solution engineers. Good luck!