How Longer CVC Storage Can Improve Your Payment Flows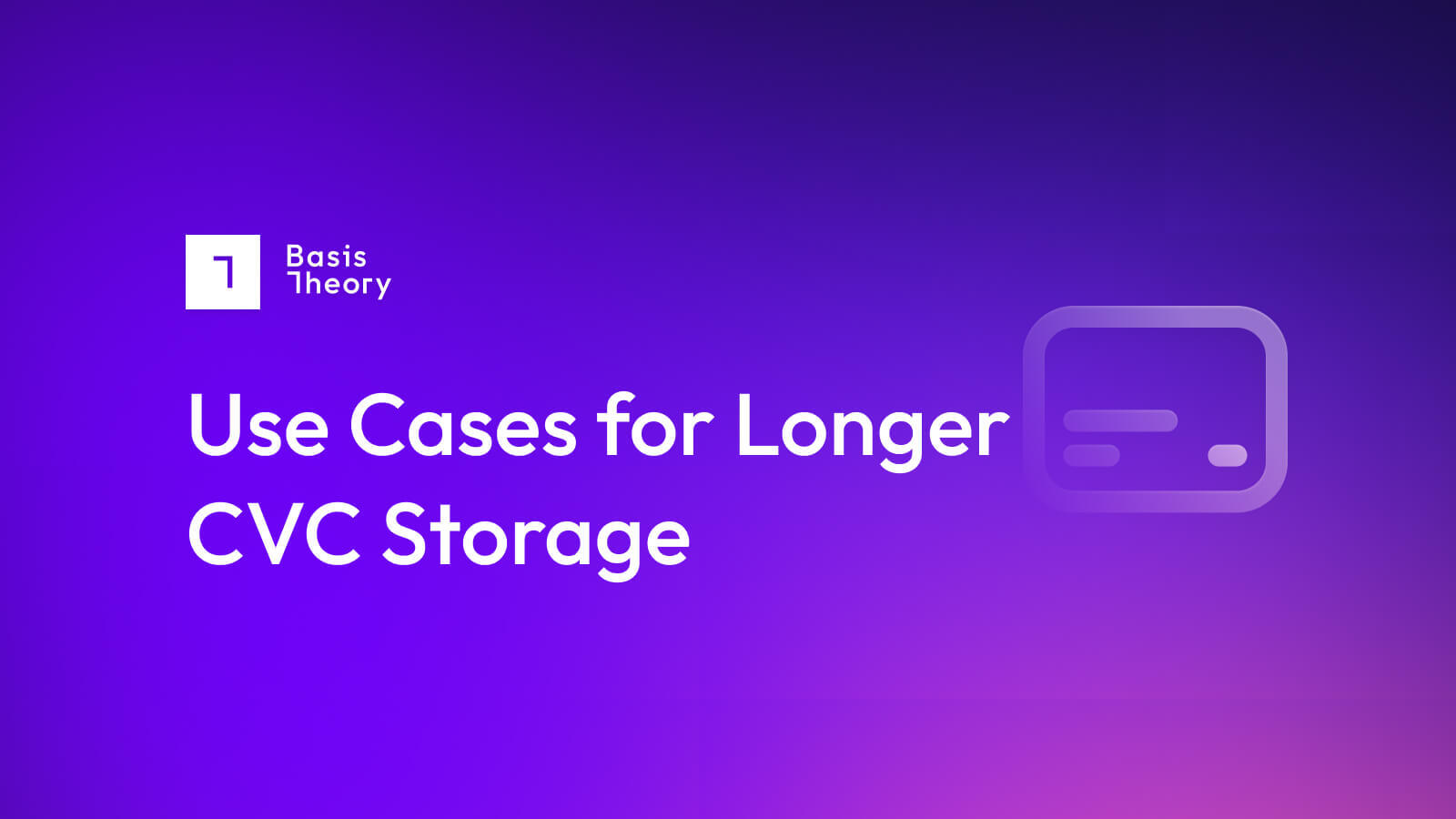 As we hear feedback from customers about the creative ways they use their payments data we constantly look for ways to unlock more use cases. We've recently released a feature that extends innovative ways to work with payments data and I'm excited to share it with you!
PCI regulations dictate that merchants can't store CVC numbers from credit cards beyond the point of processing payment. To help our customers enforce that rule and stay PCI compliant, we previously had limited storage of CVC to one hour. However, we've heard from customers who are driving innovation in payments that they need to store data for longer periods of time. So we have been working to provide a feature that enables you to securely and compliantly store those numbers for an extended duration.
If you're like me, you're probably already thinking about all the cool things you can do with this. So, get ready, because we're about to dive into what this feature is all about and some of the ways we're seeing customers use it!
How it Works
Let's start with how you can enable this in your Tenant. To extend the time you can store CVC numbers in Card Objects, simply reach out to our support team by emailing support@basistheory.com with a short description of your business case so that we can ensure you can extend the storage time and remain PCI compliant. This is currently only available for customers on paid PCI plans but you may contact our team and we'll be happy to discuss how you can implement this for new projects.
Now, I know what you're thinking, "Hold on, is that safe? Is it compliant?" Absolutely! Our team has put in the hours to ensure this maintains rock-solid security and PCI compliance. With end-to-end encryption, access controls, and a TTL on the CVC we are ensuring the data is safe while being stored, and meets PCI regulations.
And the best part? This shiny new feature plays nicely with all the other awesome Basis Theory tools you already use. It's all done through our unified API, so you can keep your operations slick and seamless.
Use Cases
We're already hearing of some ingenious ways this feature can be used in payments flows. Let's take a peek at some of these to get your creative juices flowing:
Event Planning Services - Event planners frequently make multiple ad-hoc purchases on behalf of their clients, such as securing vendors, booking venues, and ordering catering. Extended CVC storage facilitates this process, particularly for transactions with smaller vendors that may require manual entry of credit card data.
Concierge Services - Particularly in the luxury sector, concierge services frequently carry out purchases on behalf of their clients, whether it's tracking down rare items or booking the hottest table in town where traditional payment processors might not be used. With this new feature, they can ensure these transactions are all done with a smile and a secure transaction!
Interior Design and Home Improvement Services - Professionals in these industries often source materials, furniture, and decorative items from a wide range of suppliers on behalf of their clients. Some suppliers may not have the means to tokenize card data, making extended CVC storage crucial for facilitating manual entry during these transactions.
Personal Shopping and Styling Services - Personal shoppers and stylists often source clothing and accessories from multiple retailers. With extended CVC storage, they can efficiently scoop up trendy pieces from various retailers across various platforms, regardless of the payment processor used.
Business Consultation and Setup Services - Business consultants, especially those aiding in business setup and registration, frequently make payments to different entities, such as registration bodies, web hosting services, and office rental agencies, on behalf of their clients. Extended CVC storage helps streamline these transactions, making setting up a business just a little less hectic!
Freelance Travel Writers and Bloggers - Globetrotting writers and bloggers often need to make numerous disjointed payments to different establishments as part of their job. With the ability to store CVC for an extended period, the payment process is made more efficient, allowing them to focus more on their core work.
So, whether you're building features to help users plan events, source exclusive items, or travel the world on someone else's dime, this feature can assist in a safe and compliant way, we can help.
What Will You Build?
Our extended CVC storage feature is a significant step forward for Basis Theory. We strive to provide secure and innovative solutions that balance convenience with security, and this feature exemplifies our commitment.
We are always looking for feedback from our users so please let us know how you're using this feature and what you love about it. We're always eager to find ways to provide you with solutions that maintain compliance for you while unlocking your ability to innovate.